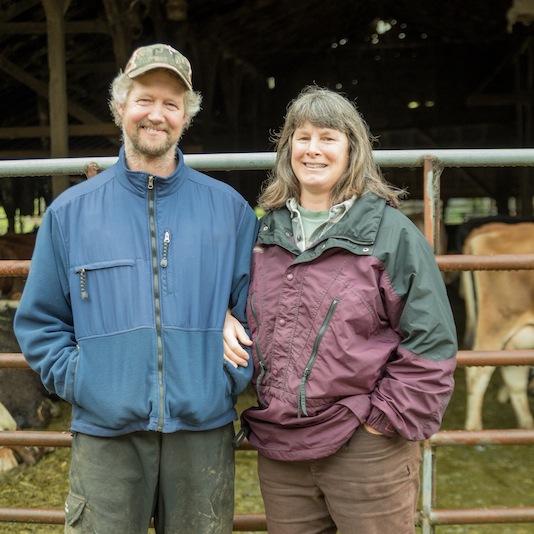 Lance's Farm Vittles
Address: 18700 Miami Foley Road Bay City, OR, 97107-9709
Email Address: waldronlc@hotmail.com
Phone: 503-322-2226
About Us
Lance's Farm Vittles is a third-generation family farm on the north coast of Oregon. My grandfather bought the farm in the 40's, milking cows and raising a few beef cows. I grew up on this farm and began selling beef and pork wholes and halves to neighbors while I was in high school. About 14 years ago my wife and I added a small flock of sheep to the farm menagerie and decided to try selling our fresh frozen meat at the local farmers' markets. We had good community support and soon added whole fryers to our list after several requests by customers.

We offer grass-fed beef and lamb, pastured poultry, and milk-fed pork. We use no hormones or subtherapeutic antibiotics on our livestock and use no chemicals or commercial fertilizers on our pastures. Beef, lamb, and pork are sold as wholes, halves, and as a variety of individual cuts (custom cutting orders welcome). Chickens are sold as whole fryers/broilers only.

You can find our meat products at the Manzanita Farmers' Markets every summer (mid-June through September) and year round at Food Roots in Tillamook and Wild in Manzanita, Oregon or by appointment at our farm. We sell wool products year round at Food Roots and by appointment at the farm.
Practices
The beef cows and sheep are on organic pastures full time with hay and grass silage offered during winter. They receive no grain. Our broiler chickens are raised in on an organic dairy cow pasture. After 3 to 4 weeks in a homemade brooder behind our house, the chickens are moved to a mostly predator proof, moveable pen. We move their pen at least once a day so they can have fresh grass, bugs, worms, etc. We also feed them vegetable protein based poultry food from the local feed store and occasionally a bit of extra milk from the dairy.

We raise 6-15 pigs at a time in a large barn pen that has plenty of rooting and loafing room. Occasionally, we let the pigs roam around in the field behind the barn. After we get tired of chasing the ones that get out of the fenced area, we lock them up in the barn again. The pigs receive left over milk from the dairy, rolled corn and barley, compost, hay and fresh grass during summer.